Quality eggs, produces quality egg products. Egg quality depends on health of the laying flock, and the flock's feed makeup and quality.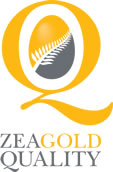 Zeagold Foods is involved across the entire process, undertaking quality testing at every point of the egg production process. We have full control over both the laying flock and its feed inputs. In this way, we can optimise the quality of our eggs and therefore, our egg products.
The raw materials used in the flock's feed are tested to ensure they comply with the company's own strict specifications. Then, when in its final form, the feed is tested again, to check that it is delivering all of the flock's nutritional requirements. This pattern of testing and validation continues right through the egg collection, further processing and delivery phases - until the moment the final products arrive in your supermarket.